Elm Story
Elm Story Cloud — closed beta is here
---
Greetings!
We're pleased to announce the launch of Elm Story Cloud; now available in closed beta to Elm Story community supporters.
Stick around for a roadmap update.

What is Elm Story Cloud?
ESC brings Elm Story to the browser, with additional service-level support for storyworld sync, one-click publishing, collaboration and more.
How do I get in?
In the past, if you've donated via Patreon or itch or have contributed detailed feedback and documentation, you will receive an email or DM sometime this week with your unique invite and opt-out links. You also have access to our #preview channel on Discord.

Going forward, if you've received the 'leaf' badge or higher (donate $5 or contribute time with feedback and doc support), you will have access to the closed beta.
If you've donated via itch and not Patreon, contact myself (ritsuke) or (Sith) on our Discord to receive your badges and gain access to the #preview channel. If you'd prefer to communicate via email, drop us a line.

What can I expect?
Community supporters will receive a unique invite link that will walk through the passwordless sign up process. After confirming your email address, you will be redirected to the homepage.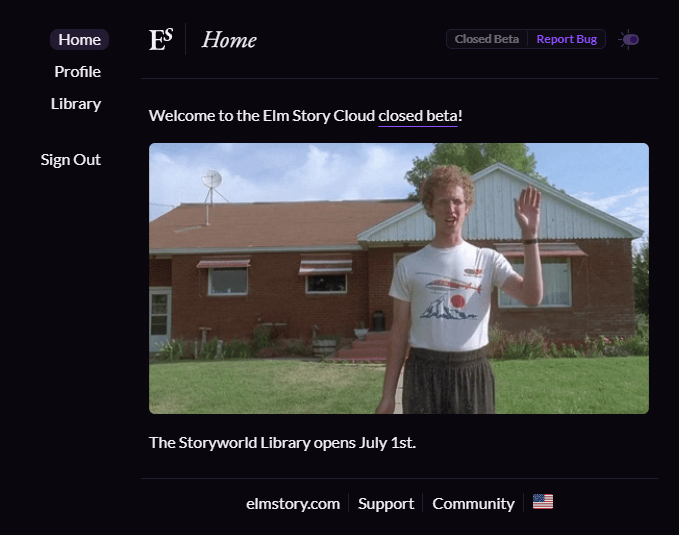 From the Profile link in the sidebar, you can reserve a unique designer handle and write out a bio used for your public profile.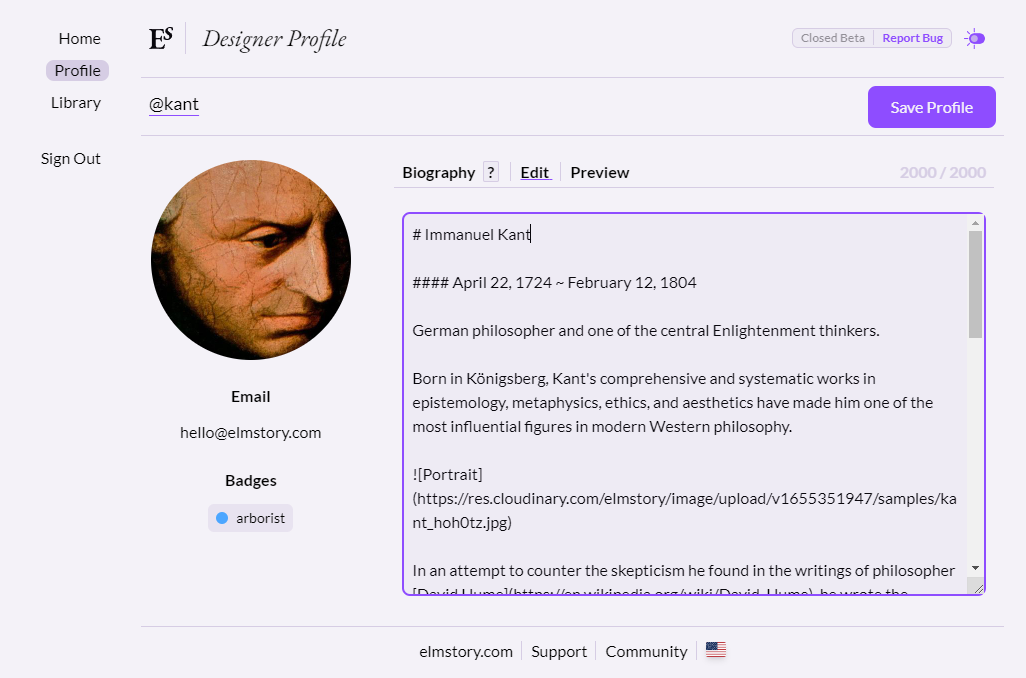 You can view a sample public profile at https://elmstory.com/@kant

Starting July 1st, we will release focused parts of Elm Story v0.8 for testing, available from the Library link in the sidebar.
EDIT: We've paused full-time development on Elm Story to work through some financial issues. Thank you for your patience!
How is ESC different from the standalone version available on itch.io?
With the standalone version of Elm Story, service-level support is entirely optional; the app will function as before, without internet communication or account sign-up. If you find available ESC features useful, you may create a free account at any time and link your local storyworlds for syncing. If you'd like to delete your ESC account, we'll also make it possible to unlink.

Otherwise, we're working to keep features at a 1:1 parity between both standalone and browser versions.

Will ESC cost money?
Our goal is to remain responsibly sustainable through community donations, sponsorships and grants. We plan to keep the standalone version free forever and introduce a generous free tier to ESC.
ESC will require additional support and provider overhead. Our hope is to offset these rising costs through pooled community support and reasonable paid tiers that will help us expand the team.
All of this without having to raise greedy tech-corporate funds that bind us to the corruptible fiduciary duties to shareholders!
Roadmap Updates
Summer 2022
We are working to have v0.8 of Elm Story available for standalone download (itch and Steam) and the browser (ESC closed beta) by the end of Summer.
This is our biggest release yet, with support for Storyteller customization (presentation styles and transitions), localization (English, Italian and Japanese), UI themes (ES Dark, ES Light, Dracula), scoped variable management, expanded keyboard shortcuts and more!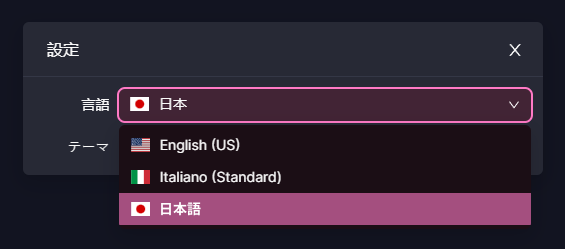 We've started the process of abstracting and decoupling Elm Story's component libraries for open-source. More on this effort later this year.

Fall + Early Winter 2022
Dedicated to ESC storyworld sync and 1-click publishing support. Closed beta will continue through end of the year. v0.9 will be dedicated to UX improvements, performance tweaks and bug fixes.
Late Winter / Spring 2023
ESC will move to open beta and we'll begin to preview collaboration to community supporters. Elm Story will leave early access (v1.0) and be available for standalone download and the browser (ESC open beta).
Summer 2023
We will explore in-house and community extension/plug-in/theme support, starting with open-source plugins to 3rd party engines like Godot, Unreal and Unity.
Thank you for your continued support!