Elm Story
Elm Story 0.7 — text formatting + multimedia support for images / audio
---
Images and sounds create impactful emotions and illustrate what you read in the text. With Elm Story 0.7 you can now bring your storyworld to life using multimedia content, creating a dynamic interplay between words and.
Scene Map Improvements

Event creation
Creating new events is much easier now. Just drag out a path from a choice or an event passthrough.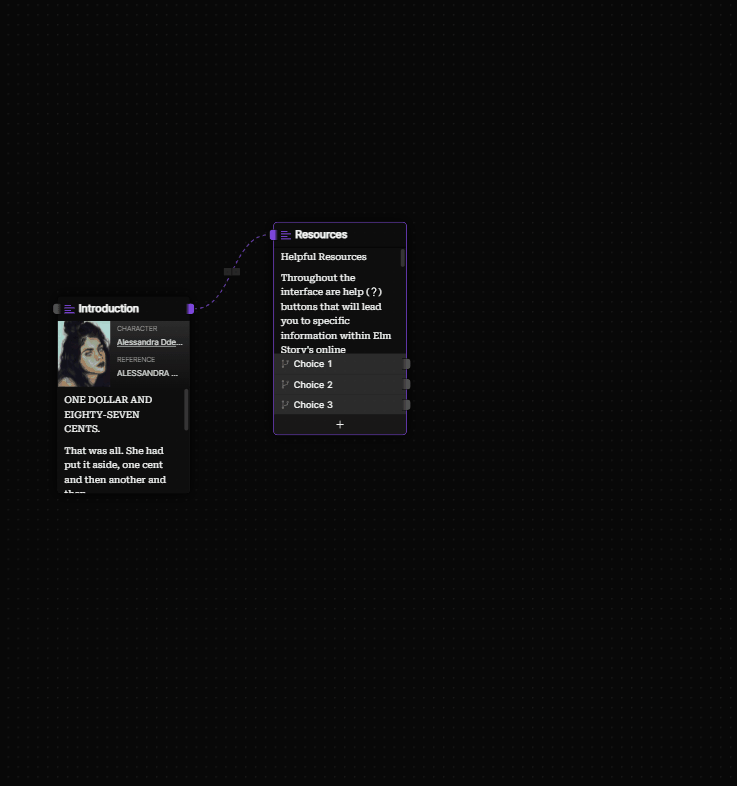 Event Editing
Double-clicking the node header enables inline rename
Double-clicking the character area opens the character manager. Alternatively, click character name to open manager without selecting node
Double-clicking event content opens the editor. Alternatively, hover over event content peak and click button to open editor without selecting the node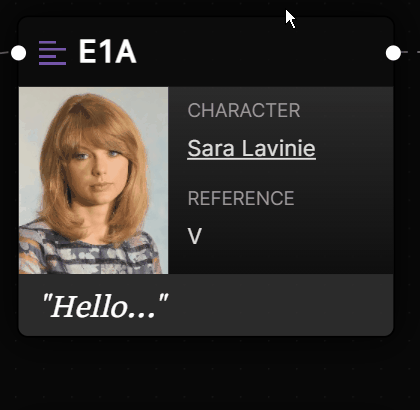 Event Content text formatting
You can now create and change the style of your content through a Notion/Medium-like floating toolbar.
Type "/" to open the command menu and select the element you want to create
Highlight a piece of content to bring up the toolbar and change its style
Drag the handle to change the block position

Currently, Elm Story 0.7 supports text formatting for block h1-h4, ordered/unordered list and hyperlink. You can also choose between Inline bold, italic, underline and strikethrough.
Keyboard shortcuts for bold, italic, underline and strikethrough toggling are also implemented.
Multimedia
Audio
No more silence when you enter your storyworld. Now, scene and event support a new audio profile. The profile defines the audio instance to the storyteller e.g. what is the track/asset identifier? Does this track loop?
Options include loop toggle. Configuration is managed via the element properties panel.
The storyteller also supports an internal audio mixer:
If audio is detected in the next scene/event, the Storyteller will crossfade between tracks
If scene and event tracks are playing, scene track volume is reduced by 70%
The UI component supports creating a profile, play/pause/mute/scrobble as well as toggling loop, reimport (different or updated track) and deleting the profile. The UI also displays current track time and track duration.
Images
Images can be imported into an event. Currently the inline image element will fit horizontal and can be cropped and adjusted with or without the help of a togglable grid.
For 0.7, inline image elements will display in 16:9 at a max size of 655x368 (or 1310x736 retina) and scale down (based on display size) to 320x180.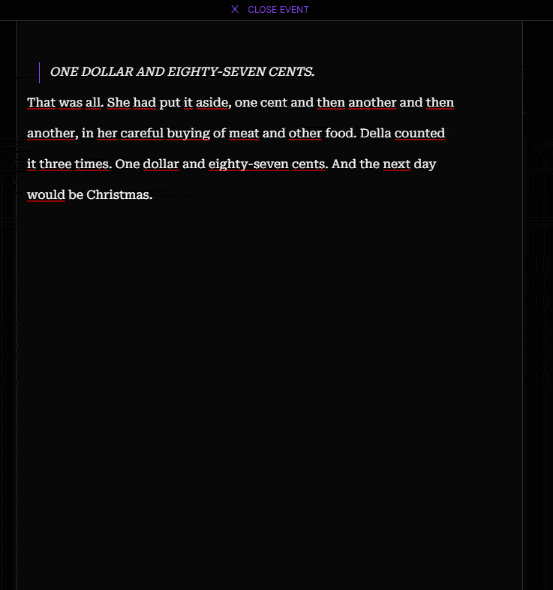 Based on designer feedback, future versions of ES will provide configuration for size, position, repeat (texture), etc.

Character Reference
it is possible to make a reference to a character using the "Character Reference" command from the command menu "/". Once open, the character to be referenced can be selected, the style changed and whether the alias is to be shown can be selected using the right arrow.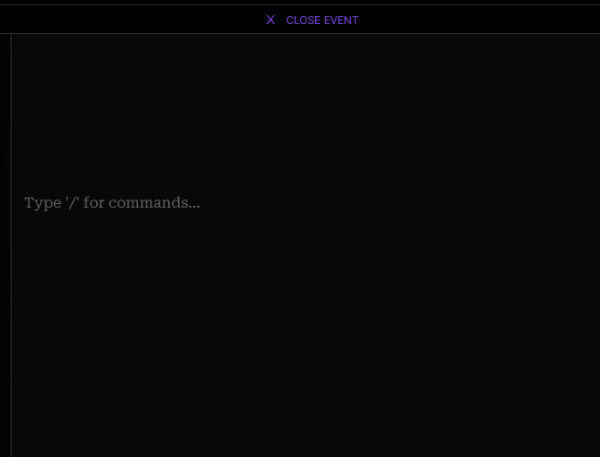 Characters that are referenced within an event are displayed under the preview of the content in the scene map. You can click on the icon to open the Character Manager.
In addition, in the Events Tab you can check all events in which that character is referenced.

At the moment a referenced character is seen in the storyteller as normal content. Future versions may extend this to include audience interactions e.g. display information about the character on reference click, character-specific interactions, etc.

0.7.0 (Early Access) Release Notes
Based on designer feedback, v0.7 is packed with 10 major features, ~60 enhancements and ~70 bug fixes.
An exhaustive list of 0.7 (d6f6b568) changes are available on our issue tracker.
Features
Scene Map

It is now possible to toggle for event content previews and referenced character grids and render content preview placeholders when zoomed out beyond threshold
Support for AND/OR gate type in path conditions (match ALL|ANY)
Support for path conditions specificity (if...else)

Event

Inline character references are now supported
Transitions between events are now supported
Double-clicking header no longer beings up the event content editor.

Element Properties

Paths are now patched and maintained when changing event type from CHOICE to JUMP
Event Content

Event content now supports Text formatting (Notion/Medium-like floating toolbar, drag and drop and keyboard shortcut)

Block (Element)

H1, H2, H3, H4
Alignment: left (default), center, right
Quotes
(Un)ordered lists

Normal (default)
Italics
Bold
Underline
Strikethrough

Event content now supports inline images

Crop and expand to the width of event stream, otherwise centered
Drag and drop reordering

Composer

"Getting started" sample content is now generated on storyworld creation


Scene

Added support for audio playback


Storyteller

New serialization library
Storyteller now supports Audio Mixer
Enhancements, fixes and etc.
Character Manager

Event content references added to Events tab


Data

support scene -> children -> jump element type


Import

Import error message is now improved


Scene Map

Event connections indication improved
Increased node handle interaction area
List referenced characters in Event node
Input variable moved to element properties panel
Jump node improved
Event nodes now show their input type
Event title can now be modified inline
Added support for node creation by dragging out a Path
Event content excerpt is now displayed

Edit character by double-clicking character persona space; selects event (use character link if selection is not desired)
Edit event content by double-clicking content space; selects event (use edit button if selection is not desired)

Selected Jump node now uses its border color


Event

Spellcheck disabled in Event content expressions
Choice text is now selected when rename starts


Event Content

Event content text font replaced from Fira Mono to Roboto Serif
Event content now matches the base storyteller styles
Event content now supports inline hyperlinks
Drag and drop/element content reordering


Storyteller

New serialization library
Motion settings
UI scale settings
In input event, a cursor and a placeholder are now displayed instead of the initial value
After event interaction, unused choices, passthrough and loopback element are now removed from event stream
Event interactions now fill the horizontal event stream space
Empty blocks are now allowed
Input result now align with choice result
Next event now displays top of event content based on display height
Text of choices not picked is now blurred
Audio is muted when not visible
Reset dialog now properly reset the storyworld
Storyteller now renders when scene and choice/input event are defined and jump event is in first position


Composer

Shortcuts for UI zoom added
It's now possible to easily enter negative numbers for variables, conditions and effects
Audio is paused when not visible


Character Personality
Storyteller PWA

Book and Console themes are now called Light and Dark
Audio stops when returning on title screen
Audio is paused when not visible

Storyworld Outline

Event types are now differentiated
Jump nodes can now be removed via context menus
Element title is now selected when rename starts
Clicking on other elements is disabled if an Element is in rename mode
Add element context menu improved
Jumps are now showed with Events
Element title tooltip is now showed on hover


XRay

When clicking a different event, if event content editor is open for a different event, now the editor changes to clicked event content


Storyworld Preview

Event types are now differentiated
Character reference is now highlighted
show scene > event breadcrumb in Xray
Event content updates are now debounced to improving authoring and speed in editor
Toggling Xray on before first scene and event, Xray toggle will not invert
Element property players are disabled when testing audio
Feedback
This is an early access release and there are bugs. Report problems to our issue tracker and join our public Discord server.

Roadmap Updates
0.7.x — Stability + Performance (May)
Focus on stability, performance, bug fixes, minor UX improvements and introduces a new way to handle the dreaded Black Screen of Death.

0.8 — Content Customization (Summer)
Video support and customization options.

0.9 — Smart Composition (Fall)
Spend less time organizing scenes and more time composing storyworld content.

1.0 — App Optimization + Web Support (End of the year)
For early access previews on our progress, subscribe to our Patreon.
Track roadmap progress via our issue tracker.
Support Elm Story
To help this project continue to thrive with full-time, active feature development and updates, consider a donation via Itch.io.
Thank you to our generous community members who are able to donate monetarily or volunteer their time. You power Elm Story's continued development and growing awareness!
Become a monthly patron to earn support badges and unlock early access previews, in-app recognition, monthly Q&As, feature priority polls, 1:1 support and ESC name reservations for studio and designer profiles.
Thank you for your continued support! :)
Files
Elm Story (Early Access) — Mac
81 MB
Version 0.7.0
Apr 18, 2022
Elm Story (Early Access) — Linux
81 MB
Version 0.7.0
Apr 18, 2022
Elm Story (Early Access) — Windows
60 MB
Version 0.7.0
Apr 18, 2022