Elm Story
Elm Story 0.5.1 — seamless game updates in the browser
---
Introduced in Elm Story 0.5, games exported as a PWA are installable, offline-ready web apps bundled with the Elm Story Runtime Engine (ESRE). However, ESRE could not handle game updates. 0.5.1 addresses this complex problem.
Like modern native apps, ESRE now supports seamless game updates for your players.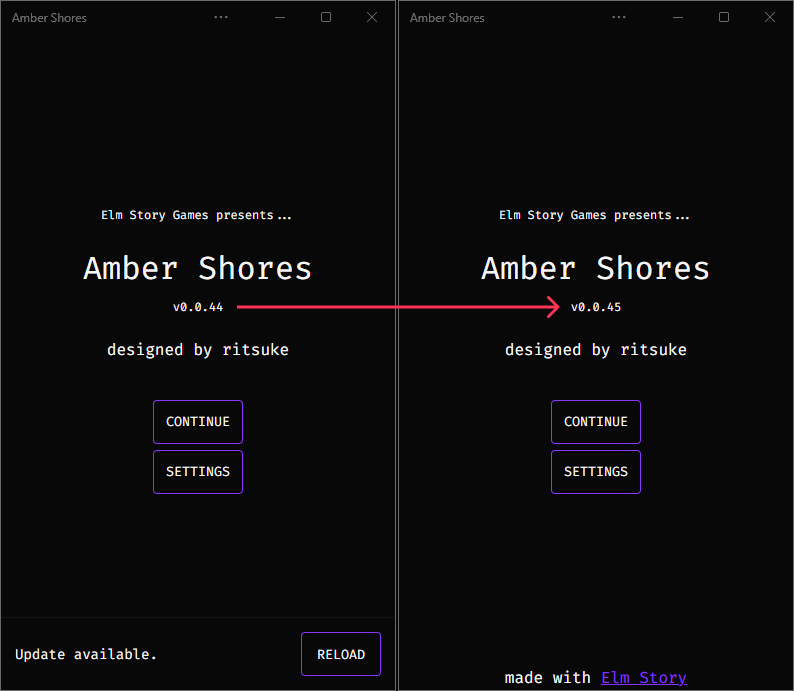 For an in-depth look at how this works, check out the PWA guide from the Elm Story Docs web app.
Lighthouse
Part of ESRE's quality test suite is running exported, self-hosted games through Lighthouse.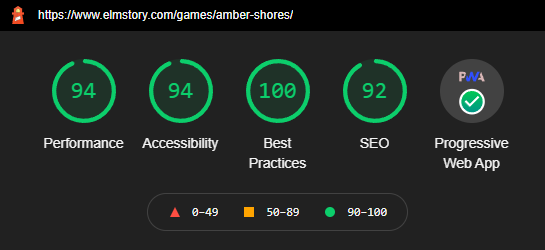 Not too shabby for early access, but still room for improvement!

Help + Documentation
Various parts of the Elm Story UI have been updated with contextual help. Clicking a help button (?) will open the representative guide in your browser via the Elm Story Docs web app.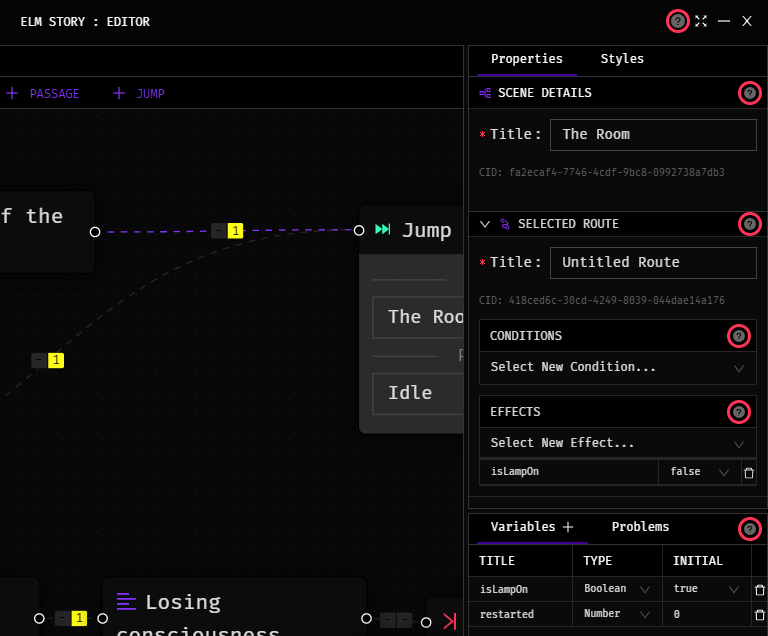 Documentation is under active development and you are likely to see empty guides. I'm planning to finish initial expansion of these empty guides by early next week.
In the meantime, join us for a livestream tomorrow (Friday November 5th) at 7PM GMT for an introduction to Elm Story. RSVP here and follow our channel on Twitch.
0.5.1 (Early Access) Release Notes
Features
App

ESRE now supports published engine and game updates

Docs
Enhancements, fixes and etc.
Game version uses semver check for validation
Added contextual help button to the app's title bar
Added contextual help buttons to game component UI
Added contextual help buttons to the export game menu
Fixed an issue where, when removing a selected passage via the game outline, the component properties panel would not reflect the selection change
Fixed an issue where, when adding a passage via the game outline, the new passage would not be selected
ESRE now provides feedback when game jump is modified and engine needs reset
Fixed an issue where ESRE would overflow long game titles in the event stream title bar
ESRE now uses correct color when selecting input text
Fixed an issue where, in scene view, choice titles could be blank
Updated app title bar buttons to improve readability
Known Issues
In the game tab, when ESRE provides feedback to reset, clicking the reset button may result in an empty event stream. The current workaround is to click the reset button in the devtool bar.
As this regression isn't app breaking, the plan is to address the issue in a 0.6 release.
Feedback
This is an early access release and there are bugs. Please report issues you encounter to our subreddit, r/ElmStoryGames.
Roadmap Update
The roadmap is largely unchanged since the previous update. Elm Story 0.6 (multimedia update) is targeted for an early December release.
Support Elm Story
To help this project continue to thrive with full-time, active feature development and updates, consider a donation via Itch.io.
Become a monthly patron to access preview releases and dev chat and earn support badges.
Thank you for your continued support! :)
Files
Elm Story (Early Access) — Mac
81 MB
Version 0.5.1
Nov 05, 2021
Elm Story (Early Access) — Linux
81 MB
Version 0.5.1
Nov 05, 2021
Elm Story (Early Access) — Windows
60 MB
Version 0.5.1
Nov 05, 2021