Elm Story
Elm Story 0.1.1 is now available, featuring game import and export; engine data schema released
---
Moving to Alpha Milestone 2 (and a bump from 0.0.2 to 0.1.1), this release brings an essential feature: data portability. In other words, game import and export. This addition enables external backup / version control, sharing and support for community formats and tools development.
Community Formats and Tools
Most exciting is that clean, external access to this data enables community development of game formats (think Twine story formats) and tools. If you are interested in building formats and tools for Elm Story, consider sharing updates on the community forum @ r/ElmStoryGames.
Importing Games
In the

Dashboard

, click the

import button

Select

your file and click

open

If validation passes, the game will be imported; title appended with

(Imported)

Import Validation
Imported games are validated against publicly available, versioned engine schemas. This ensures that the data being imported will work correctly with the matching version of the internal database and engine renderer. Fairly clear error messages are displayed when validation fails. Future releases will provide robust migration features where necessary.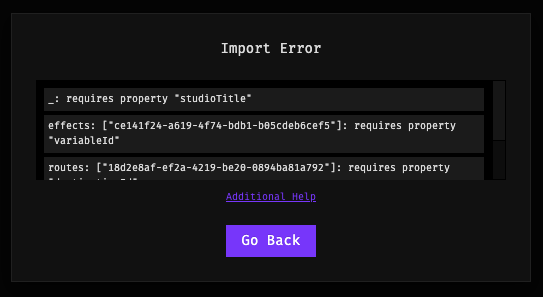 As of 0.1.1, the importer does not check if referenced components exist. Also, passage content is not validated against the internal engine renderer, as the spec is still in flux. Validation improvements are planned for a post-alpha, early access release. You can safely modify/remove games that are missing components without worrying about overall internal database health.
Exporting Games
Open a game in the

Editor

Click the

export button

at the top of the

Game Outliner

Name your file and click

save

Example Games
To support tutorial resources, I've started building games that demonstrate various engine features.
Inspired by one of my favorite door games, Legend of the Red Dragon, the first (and most complete) sample game is an RPG titled Project Katherine.
Download the JSON and import to check it out.
0.1.1 (Alpha M2) Release Notes
Features
Import and export games as JSON
Public availability of game engine schema
Manage game version in the

Editor
Etc
Game version displays in game boxes on the

Dashboard

Changed

Designer

in app header to

Editor

Changed game

director

to

designer

Studio

games

array will not empty when game is removed
Component

updated

field is modified correctly
Feedback
This is an alpha release and there are bugs. Please report issues you encounter to our subreddit, r/ElmStoryGames.
Roadmap
Alpha M2 is expected to run through May 19th 2020. To see what is planned in the future, check out the full roadmap.
Support Elm Story
To help this project continue to thrive with full-time, active feature development and updates, consider a donation via Itch.io or become a monthly patron.
Elm Story Support